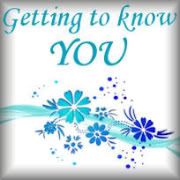 I have linked up with the blog
Dancing Barefoot
. The author, Lynette Kraft (She's a real writer, with a book & everything!), has started a "Getting to know You" event to help connect bloggers & spread the blooging love. From her site:
Well, most bloggers like to have friends. It's more fun to write when somebody is reading, right? Sometimes we stumble upon a blog and we say, "Where have you been all of my blogging life!" I do that sometimes too. So, here's what I'd like to do so that you can get some new visitors to check you out and you and the rest of us can find some new blogging friends that we will decide we can't live without.
I personally have just started on this blogging journey & am still finding my way. I am not really a writer but I definitely have a need to express myself. I am not sure that I have found a style yet. So far it is a bit like a journal. But it is very much a work in progress as I tend to learn as I go.
Check out Lynnette's blog (she has an amazing story to share) & link up!